Jackson Walker continues to drive strong leadership skills as a key to firmwide success and exceptional client service through our attorney leadership initiatives. As part of that effort, the Firm teamed with Thayer Leadership to learn from the nation's finest leaders out of West Point.
On Tuesday, August 24, Brigadier General (Ret.) Bernie Banks, Ph.D., with Thayer joined the Firm's practice group leaders to facilitate their efforts to build a leadership culture within the Firm.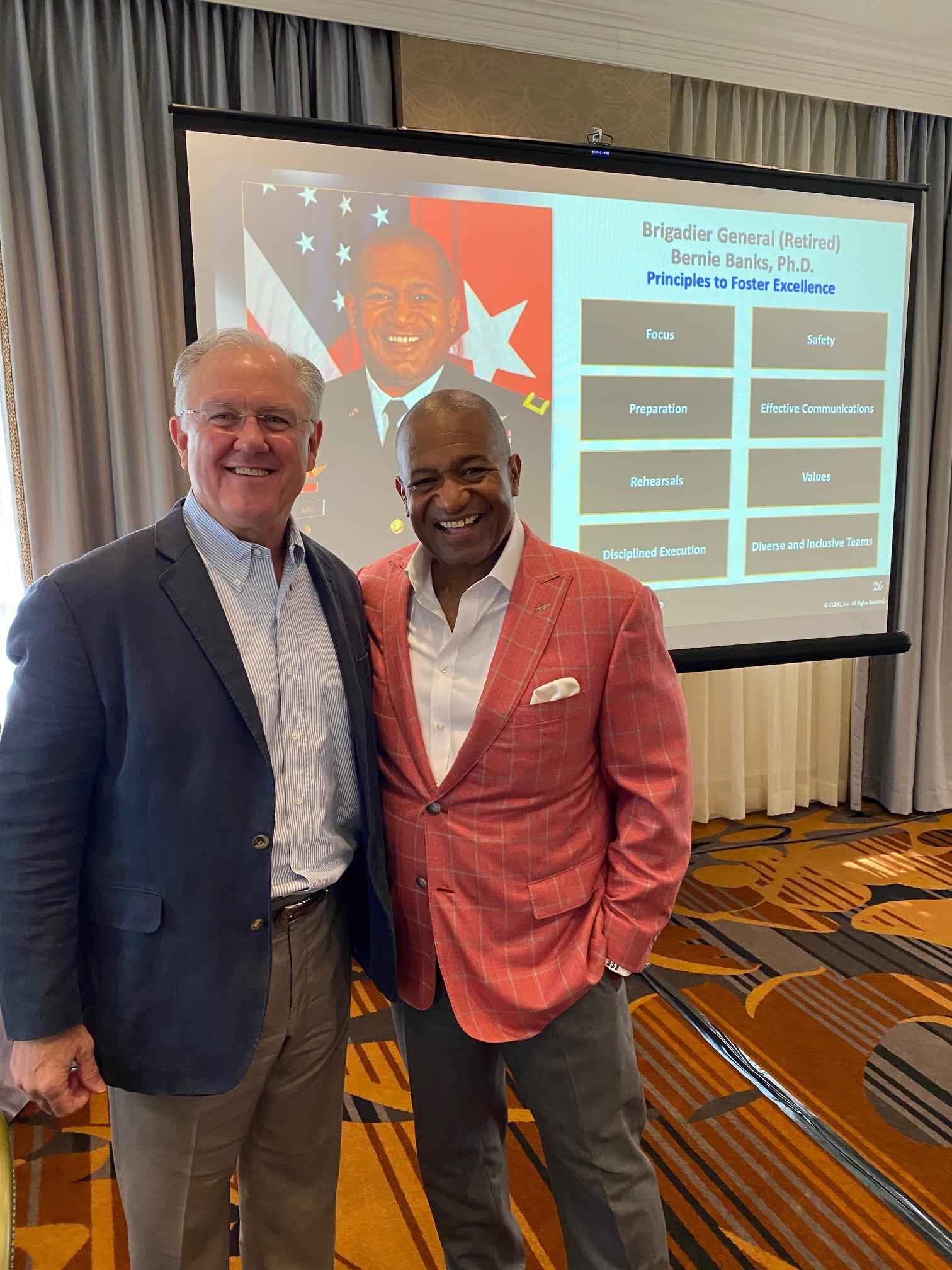 Jackson Walker Managing Partner Wade Cooper and Brigadier General (Ret.) Bernie Banks
General Banks is the Associate Dean for Leadership Development and Inclusion (and a Clinical Professor of Management) at Northwestern University's Kellogg School of Management. He retired from the Army as a Brigadier General in 2016 after having successfully led West Point's Department of Behavioral Sciences & Leadership for many years. Having led multiple military units ranging from 10 to 3000 people, General Banks was selected from over 40,000 officers to receive the General Douglas MacArthur Leadership Award, the Army's top award for entry-level managers.
Leonard Dougal, Chair of the JW LEAD Committee, said, "We thank General Banks for his outstanding guidance and deep insights into leadership development, and we look forward to continuing to press forward with our leadership development mission."
"We thank General Banks for his outstanding guidance and deep insights into leadership development."
Previously, Jackson Walker welcomed Brigadier General (Ret.) Rich Gross of Thayer Leadership and Dean Ward Farnsworth of The University of Texas School of Law to present leadership keynotes to the entire Firm. For more information, view our article "Brigadier General (Ret.) Rich Gross Presents Keynote Address at Jackson Walker's Leadership Speaker Series."
About JW LEAD
To help the Firm's attorneys grow their leadership skills, Jackson Walker created the LEAD Committee to invest in the development of attorneys at all levels. Through the Firm's Emerging Leaders Program, the JW Quarterly Leadership Speaker Series, and external leadership development programs like the Globalaw Leadership Program, LEAD facilitates career development and provides the resources needed to prepare attorneys to step into any situation and be effective leaders.

"Careers and Attorney Development at Jackson Walker"
About Thayer Leadership
Thayer Leadership, a premier executive leader development organization headquartered in West Point, New York, offers leadership experiences that blend world-class applied academic and experiential sessions to unleash the "whole leader." Its unique approach to leadership development was founded on the Army's leadership philosophy of "Be, Know, Do" which focuses on creating complete leaders through the development of character, knowledge, and application. Thayer Leadership's proprietary and motivating learning approach delivers a holistic and transformational experience for participants at West Point, online, virtually, or at any location around the world.