View all L&E Dispatch Newsletters »
FEATURED
The Federal Trade Commission has been directed to consider two key areas affecting employers: to "ban or limit noncompete agreements" and revise the 2016 Antitrust Guidance for Human Resource Professionals. As a result, employers—and HR professionals—should be familiar with these laws to ensure that they do not accidentally trip the antitrust wire of both civil and criminal (and personal) liability.
Given the rise of violence and harassment against the Asian American and Pacific Islander (AAPI) community across the nation, employers should take additional measures to ensure compliance with federal laws prohibiting workplace violence, discrimination and harassment targeting AAPI employees, as well as creating an inclusive workplace and preventing legal liability.
ADDITIONAL INSIGHTS
What Employers Should Know About the 87th Texas Legislature
Fast Takes Podcast: Texas Expanded and Redefined Sexual Harassment Laws
Effective September 1, 2021, three laws pertaining to sexual harassment in Texas will be significantly expanded and redefined. Michelle Miller highlights the future impact of the upcoming laws, which will redefine "employer," extend the deadline for filing a sexual harassment charge, and ban the use of public funds to settle sexual harassment claims.
What's on the Horizon for Diversity, Equity, and Inclusion in Texas
The 87th Texas Legislature contended with several bills that address or may impact areas relevant to DEI initiatives within Texas government, public and private schools, and businesses. This article highlights House Bill 3979 and covers other DEI-related bills that are relevant to a public or private employer's DEI initiatives and may provide insight as to what may be on the horizon in Texas—whether statewide or on a local level.
New Guidance on PrEP Coverage and Retirement Plans
Guidance Reminds Health Plans to Check Up on Preventive Care Compliance
Plans and issuers have until September 17, 2021, to verify their group health plans are compliant with the Affordable Care Act's mandate that Pre-Exposure Prophylaxis (PrEP) preventive health services are covered without imposing cost sharing.
Qualified Retirement Plan Correction Program Expanded and Revised
The IRS has updated and expanded the ability to correct plan operational and document defects with the new and improved Employee Plans Compliance Resolution System. This article highlights four significant changes for employers sponsoring qualified retirement plans.
As of June 30, 2021, the EB-5 Immigrant Investor Regional Center Program has lapsed, and U.S. Citizenship and Immigration Services (USCIS) has since rejected any submissions received on or after July 1, 2021, of the forms I-924 and I-526.
The Small Business Administration has withdrawn the Loan Necessity Questionnaire requirement, primarily benefiting Paycheck Protection Program borrowers with loans of $2 million or greater that have not yet applied for loan forgiveness.
In 2020, U.S. companies spent nearly $3 billion defending class action lawsuits brought by customers, employees, and shareholders following a cybersecurity attack. In a Texas Lawyer article discussing the rising number of cybersecurity incidents and the costly results, John Jackson shared what companies can do to protect themselves.
NEWS & HIGHLIGHTS
Congratulations to Jamila Brinson and Jackie Staple on becoming Board Certified in Labor and Employment Law by the Texas Board of Legal Specialization. Only 643 attorneys in Texas are Board Certified in Labor and Employment Law—11 of whom are Jackson Walker attorneys.
Jackson Walker is participating in Diversity Lab's Mansfield Rule 5.0 Certification process. Suzan Kedron, who chairs the Firm's Diversity & Inclusion Committee, said, "With our participation in the Mansfield Rule 5.0 Certification process, we are continuing our commitment to help grow the diversity of the Firm and the legal profession."
ICYMI—WEBINAR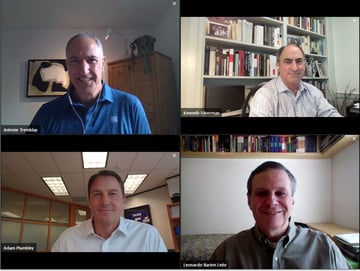 As market expectations change, companies need to adapt to ensure the availability of capital, create value for existing and new classes of stakeholders, meet regulatory requirements, and build their brands.
During this Globalaw webinar, panelists discussed opportunities associated with environmental, social and governance (ESG) and strategies for mitigating the key legal risks. Speakers included Kenneth Silverman (Olshan Frome Wolosky LLP), Adam Plumbley (Jackson Walker), Antoine Tremblay (Morency Société d'avocats), and Leonardo Barém Leite (Almeida Advogados).
These materials are made available by Jackson Walker for informational purposes only, do not constitute legal advice, and are not a substitute for legal advice from qualified counsel. The laws of other states and nations may be entirely different from what is described. Your use of these materials does not create an attorney-client relationship between you and Jackson Walker. The facts and results of each case will vary, and no particular result can be guaranteed.
© 2021 Jackson Walker