View our Jackson Walker Alumni page »
Staying Connected
While we miss having you as part of the Jackson Walker team, we look forward to staying connected through our biannual Alumni Newsletter and our Jackson Walker Attorney Alumni group on LinkedIn. In this newsletter, we spotlight former JW attorneys, review pro bono opportunities and success stories, share the latest news, insights, and events from around JW, and provide helpful resources like free CLE programs.
Share Your News
Have you received an award, participated in community organizations, or been hired or promoted? We want to hear about anything new and noteworthy happening to our alumni. To share your news, you can fill out this form.
You can also keep current and past Jackson Walker attorneys updated through our LinkedIn group, Jackson Walker Attorney Alumni.
ALUMNI SPOTLIGHTS
Meet Lauren Mutti
Lauren Mutti, a former JW partner and the current Senior Vice President of Labor and Employment at our client Southern Glazer's Wine and Spirits, LLC, was appointed Chair of the Board of Directors of Lambda Legal. Lambda Legal is the oldest and largest national legal organization whose mission is to achieve full recognition of civil rights for LGBTQ+ Americans and everyone living with HIV.
Recently, we caught up with Lauren as she discussed her role at Southern Glazer's and her time at JW. View the Q&A »
JW Alumni News
Jim Goolsby has joined Intercontinental Terminals Company as General Counsel. Since leaving JW, Jim has also served as General Counsel for Sterling Bancshares, Inc. and Tauber Oil Company, all in Houston.
Willie Hernandez has moved from his role as the former head of legal for Facebook Messenger to serve as General Counsel, International of the Coca-Cola Company. Read more »
PRO BONO UPDATE
Pro Bono Team Secures Release of Client Serving Life Sentence
Nearly 4,000 Americans have been sentenced to die in prison for federal drug offenses, with no possibility of parole. Eighty percent of them are people of color. Working alongside Brittany Barnett and the Buried Alive Project, which helps free people in prison sentenced to life without parole for nonviolent drug offenses, a Jackson Walker team led by Edwin Buffmire sought a reduction in the life sentence of Ray Charles Fields, who received a mandatory life sentence in 1994 for nonviolent drug-related crimes.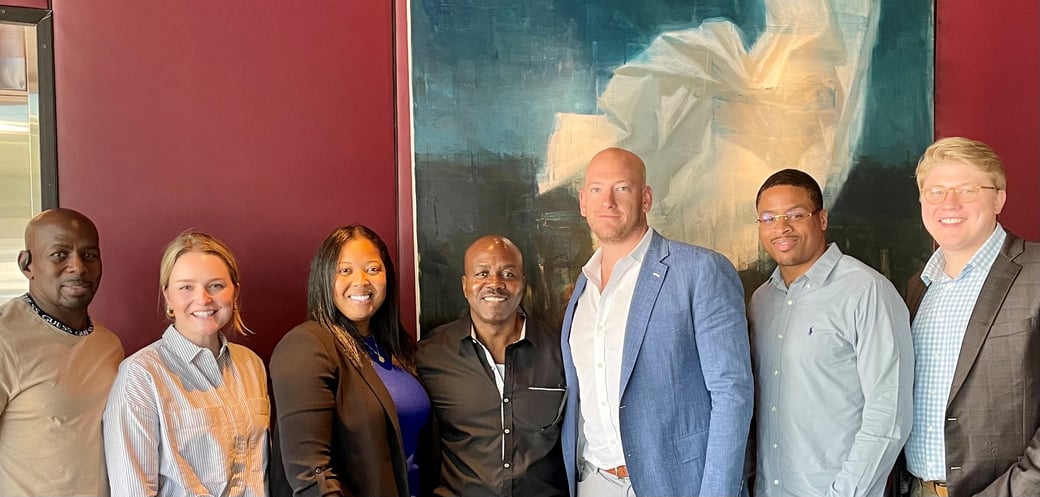 Pictured above from the left are Tim Fields (Ray Charles' younger brother), Hannah Walsh, Brittany,
Ray Charles, Edwin, Chris Young (another individual released from a life sentence), and Matt Johnson.
After more than a quarter-century in prison, Mr. Fields is now home, free, working alongside family at a local restaurant, and spending time with grandchildren he'd never met.
Pro Bono Suit for Foster Parents
Erica Benites Giese represented foster parents pro bono in an emotional and highly contested matter involving multiple children in the care of the Department of Family and Protective Services (Child Protective Services).
"This is truly a big win and happy ending for our clients and the beginning of a safe and bright future for the children. I am honored to help them in their journey and am grateful for the opportunity to fight for them," Erica said.
JW NEWS
Jackson Walker Has Welcomed 13 New Partners
Recent Results
Cirrus Logic Ranks Among IPO's "Patent 300"
Cirrus Logic has been listed among the top 300 U.S.-issued patent assignees for 2020 by the Intellectual Property Owners Association (IPO). This is the second year the company was included in the annual list of innovators. Brian Prewitt, Temple Keller, and Andrea Thai assisted in obtaining 150 of Cirrus Logic's 180 patents issued in 2020. Read more »
Civitas Resources Formed
A JW team led by Jesse Lotay handled the oil and gas hedging transactions for a $2 billion credit facility involving the merger of two publicly traded Denver-based oil and gas companies to form Civitas Resources, Colorado's first carbon neutral energy producer. Notably, the transaction was listed among the "Top 10 M&A Deals of 2021" by The Texas Lawbook. Read more »
Dos Repúblicas Victory
JW unanimously won a major Texas Supreme Court administrative appeal, reversing the judgment of the Austin court of appeals and setting critical precedent regarding the faithful application of text and administrative law principles. The team included Jennifer Caughey, Ali Abazari, Leonard Dougal, Danica Milios, Mike Nasi, Peter Hansen, and Lisa Kost. Read more »
Sale of Freedom Powersports
Evan Malloy, Kayla Matus, and Taylor Cummins represented Freedom Powersports in the sale of its business to Dallas-based RumbleON, Inc., the largest U.S. retailer of powersports vehicles. The team also included Mike Meskill, Cade Satterfield, Rony Kishinevsky, Greta Cowart, Raman Dewan, Joel Heydenburk, John Jackson, Ron Kerridge, Ann Leafstedt, Shari Mao, Jay Rutherford, and Pete Wahl. Read more »
Geekdom Fund Forms Sidecars
Stephanie Chandler and Daniel Maldonado advised Geekdom Fund in raising $8 million in separate sidecar funding rounds related to Austin-based startups ZenBusiness and SubjectWell. Read more »
Texas Tower Restaurant Leases
Michael Kuhn represented a partnership between Hines and Ivanhoé Cambridge in negotiating two leases with What If Syndicate to bring two restaurants to Texas Tower in downtown Houston. Both leases will total over 8,000 square feet in the 47-story office tower. Read more »
IRM Divestiture
One80 Intermediaries acquired JW client Innovative Risk Management (IRM) and its underwriting affiliate Programs Plus. The team was led by Byron Egan and included Carl Butzer, Greta Cowart, Brady Cox, Willie Hornberger, Brandon Janes, Ron Kerridge, Daniel Lewis, Steve Moore, and David Schlottman. Read more »
Acquisition of RJV Equipment
Kevin Jones led a team representing Prophet Equity in the acquisition of RJV Equipment, LLC, a provider of new and used equipment sales, rental parts, and maintenance services to the utility infrastructure and commercial construction markets. The team included David Stolle, Greta Cowart, Nate Smithson, Pete Wahl, Adrian Allen, Alyca Riley Garrison, Jordan Newman, and Dana Nguyen. Read more »
Shell Oil Co. Renews Lease at 1000 Main
Michael Kuhn represented Union Investment Real Estate GmbH in an agreement with Shell Trading & Supply North America to renew its lease at 1000 Main, located in Houston's Central Business District. At 259,000 square feet, the transaction was named the largest lease deal in Houston in 2021. Read more »
San Antonio Office Is Relocating Near the Pearl in 2023
JW has signed a lease to occupy the Jefferson Bank building currently under construction along the 1900 block of Broadway between East Josephine and East Grayson streets. The move to the new office space is planned for spring of 2023. Read more »
Congratulations to Our Newly Elected Partners!
Fourteen attorneys were elected to the Firm's partnership—the largest class to date. Congratulations to Craig Bennett, Lindsey Marsh Brown, Art Cavazos, Amanda Crouch, Blake Dietrich, Lamar Dowling, Joel Glover, Reagan M. Marble, James Miers, Brian Oates, Michael Roberts, Jeremy Sheng, Sang Shin, and Machir Stull! In addition to electing 14 new partners, the Firm also promoted Bart Cicuto, Noah Speck, and Austin Thomas to senior counsel. View the announcement »
ICYMI—In Other News
Visit the JW News page for more »
FIRM RESOURCES
We launched our 2021 Diversity & Inclusion Report. Visit our Diversity & Inclusion website to view the report. For our quarterly news, see our Diversity & Inclusion Newsletter, Perspectives.
On each episode of our Fast Takes podcasts, JW attorneys discuss quick, actionable takeaways to help you and your business navigate today's complex, interconnected landscape.
These materials are made available by Jackson Walker for informational purposes only, do not constitute legal advice, and are not a substitute for legal advice from qualified counsel. The laws of other states and nations may be entirely different from what is described. Your use of these materials does not create an attorney-client relationship between you and Jackson Walker. The facts and results of each case will vary, and no particular result can be guaranteed.
© 2022 Jackson Walker