View all Diversity & Inclusion Newsletters »
IN FOCUS
Announcing Our 2022 Diversity & Inclusion Report
Over the past few years, the way we see diversity and inclusion has evolved, but our focus has always been on our people. At the core of our Firm's diversity and inclusion activity in 2022 was our commitment to evolving our thinking to embrace the idea of belonging.
Our Diversity & Inclusion page, we reflect on our efforts to provide an inclusive environment for all and recognize the accomplishments of our attorneys and staff from underrepresented backgrounds.
Celebrating Black History Month
In honor of Black History Month, Jamila Brinson shared her family and career story in The Texas Lawbook.
As a first-generation attorney, Jamila has proudly served as a mentor and example for those who are new to the legal profession.
NEWS & NOTES
Elevating Diverse Attorneys to Partnership

In February 2023, Jackson Walker announced the election of 16 attorneys to the Firm's partnership—the largest class to date. We are proud to share that of our new partners, seven are women and two are ethnically diverse. Congratulations to Minoo Blaesche, Genevieve Graham, Sara Harris, Allyn Hurley, Amanda Neinast, Veronica Polnick, Noah Speck, and Jackie Staple! Read more »
Appointing Our New Land Use Chair and Chair of the Paralegal Committee
Suzan Kedron, chair of JW's Diversity & Inclusion Committee, has stepped into the role as the firmwide chair of the Land Use practice. Joshua Romero has been appointed Chair of the Paralegal Committee, which oversees the work of paralegals at Jackson Walker. Read more »
Cultivating the Diverse Legal Talent Pipeline
As part of the newly formed Pre-Law Founding Circle, Jackson Walker announced a partnership with PracticePro to award at least eight Pre-Law Diversity Scholarships for underrepresented college students and graduates seeking legal careers.
PracticePro is a legal education startup committed to improving the legal profession by training attorneys who are better prepared for law practice. With the creation of the Pre-Law Diversity Scholarship, PracticePro and Jackson Walker aim to cultivate the diverse legal talent pipeline as early as possible by helping underrepresented college students and graduates get into law school and understand the fundamentals of navigating legal careers. Read more »
Developing Leaders
Jackson Walker selected Minoo Blaesche, Paisley Park, and Brian Pettis to participate in two leadership training programs offered by the Leadership Council on Legal Diversity (LCLD). Read more »
Fast Takes Podcast
| | |
| --- | --- |
| What factors drive a successful diversity and inclusion program at a company? Dawn Holiday shares how well-intentioned D&I programs miss the mark and provides the essential elements for success. Listen here » | Kelly Cobb and Sang Shin cover key considerations that employers with foreign national workers should keep in mind in the event there are layoffs or reductions in force, as not all visas are created equal. Listen here » |
Recognizing Achievements
During the third quarter of 2022 through the first quarter of 2023, the Firm received the following recognitions:
PracticePro announced Jackson Walker as the recipient of its 2023 Diversity Leadership Award. Established in 2017, the award highlights law firms and corporate legal departments that are actively working toward a more inclusive and diverse legal profession. The award was presented at PracticePro's Ninth Annual Southern Career Conference and Diversity Reception. Read more »
Jackson Walker earned 24 national and 121 regional rankings in the 2023 edition of the U.S. News & World Report and Best Lawyers "Best Law Firms" list. Read more »
HR Administrative Assistant Yasmin Barraza was recognized as "Supervisor of the Year" by Cristo Rey Dallas College Prep at the Cristo Rey CEO Breakfast.
In addition, the following women and diverse individuals received notable achievements:
Chevazz Brown, Carey Hain, Lindsey Moorhead, and Sang Shin were included in Houstonia Magazine's "Top Lawyers" list of 2021-2022 in its Best of Houstonia. Read more »
16 Fort Worth-based attorneys were included in Fort Worth Magazine's "Top Attorneys" list for 2022, including Taylor Cummins, Kayla Hackerott, Brittani Rollen, Ginger Webber, and Chelsea Wood. Read more »
Capitol Inside recognized Jackson Walker's Legislative team in the 2023 "Texas Lobby Power Rankings". Additionally, Denise Rose, who leads the legislative team, was ranked among the "Hired Guns" list of the top lobbyists in the state. Read more »
Ali Abazari was recognized among the list of "The Lawdragon Green 500: Leaders in Environmental Law." Read more »
Meghan Griffiths and Jesse Lotay were recognized among the list of "The 2023 Lawdragon 500 Leading Energy Lawyers." Read more »
Vienna Flores Anaya, David Schlottman, and Ashley Withers were included in D Magazine's 2023 "Best Lawyers Under 40" list recognizing outstanding young attorneys in the North Texas area. Attorneys on the "Best Lawyers Under 40" list are nominated by peers who have witnessed their work firsthand and are selected for recognition by a panel of attorneys of varying ages and levels of experience. Read more »
Brian Pettis was included in San Antonio Business Journal's 2023 class of "40 Under 40" list recognizing forty professionals under the age of forty who are making a difference in San Antonio. This year, former "40 Under 40" honorees assisted San Antonio Business Journal's internal judging staff to select the finalist. Decisions were centered on the nominee's leadership, accomplishments, and commitment to the community. Read more »
In Super Lawyers' list of the 2023 Texas Rising Stars, 36 of 63 Jackson Walker's honorees are women and diverse attorneys, including Alisha Mehta Adams, Vienna Flores Anaya, Victoria Argeroplos, Gabriela Barake, Shelisa Brock, Lindsey Marsh Brown, Maggie Burreson, Amanda Crouch, Taylor Cummins, Anne Derrig, Josh Flores, Luke Franz, Josué Galván, Gracie Garcia, Alyca Riley Garrison, Genevieve Graham, Carey Hain, Kayla Hackerott, Allyn Hurley, Taylor Grove Lamb, Amanda Neinast, Kati Orso, Elizabeth Pittman, Veronica Polnick, Matthew Rodriguez, Leah Smith Sanchez, Jessica Schwartz, Jeremy Sheng, Sang Shin, Jocelyn Thibodaux Slater, Jackie Staple, Meredith Tavallaee, Austin Thomas, Sara Thornton, Brooke Willard, Ashley Withers, and Catharine Yen. A special congratulations to Amanda Crouch, Josh Flores, and Veronica Polnick who soared to the top of the list of the Texas Rising Stars in 2023, ranking as the "Up-and-Coming 100" list. Additionally, Amanda Crouch and Veronica Polnick were included in the "Up-and-Coming 50: Women" list. Read more »
Jorge Padilla was a finalist for the Austin Under 40 Awards. Presented by the Young Women's Alliance and Young Men's Business League, the Austin Under 40 Awards honor and celebrate Austin professionals who have demonstrated excellence in their careers, while also making an impact in the community. Read more »
Welcoming New Diverse Talent
As we continue to intensify our efforts to recruit diverse talent, we are proud to have welcomed the following women and diverse attorneys from November 2022 through April 2023:
Sabina Bramlett
Partner, Dallas
LaRessa Quintana
Governmental Affairs Consultant, Austin
Gigi Girling
Associate, San Antonio
Selby Rains
Associate, Dallas
Dyana Mardon
Associate, San Antonio
Ali Siller
Associate, Dallas
Lisa A. Peterson
Partner, Fort Worth
Stefanie Toppel
Senior Counsel, Fort Worth
Tara A. Potts
Partner, Austin
Ali Williams
Staff Attorney, Fort Worth
COMMUNITY IMPACT
Achieving Results for Pro Bono Clients
On April 6, 2023, Oklahoma Attorney General Gentner Drummond filed a motion to vacate the conviction of Richard Glossip, a state inmate who has been on death row for 25 years, and remand the case to the district court for a new trial.
Previously withheld evidence was first reviewed by a team of independent, third-party investigators from the law firms of Reed Smith, Jackson Walker, and Crowe & Dunlevy. Christina Vitale was one of the attorneys working on the investigation.
"We are grateful for Attorney General Drummond's reversal of his predecessor's decision to withhold Box 8, and for setting the record straight today with his motion to vacate. We are also thankful for the prompt and thoughtful investigation of Independent Counsel Duncan, and for the privilege of representing the Oklahoma legislators who sought clarity in this important matter," said Christina Vitale. Read more »
Family and Law
| | |
| --- | --- |
| In the "Young Lawyer Spotlight" featured in The Houston Lawyer, Valery Piedra discusses the importance of family, community, and her passion for media and entertainment law. See the full article here » | In a profile with Baylor Business Review, Dana Nguyen discussed her mother's struggle to launch a business as an immigrant, her passion for the law, and helping startups. See the full article here » |
Staff Spotlight
Library and Conflicts Manager Clarence Robertson II, MLS was featured in the American Association of Law Libraries' AALL Spectrum magazine.
"My library team are rock stars to me because they help take care of the things that I really can't handle when I'm working through other issues. They handle it for me, and I always want to give them my kudos every time I get a chance to talk about them." Read more »
EVENTS & SPONSORSHIPS
Kids-U Reception 
On February 16, 2023, Jackson Walker and Origin Bank hosted a reception celebrating Kids-University (Kids-U) and their commitment to the Dallas community. The event featured a silent auction and entertainment from the Mavs ManiAACs.
Miguel Ortiz serves on the Board of Directors of Kids-U, a local 501c3 nonprofit which supports low-income families and children in the DFW metroplex with after-school educational programs and summer camps.
New Notre Dame Law Program
During the 2022 Fall semester, Notre Dame Law School debuted a new series of events called "Including YOU!" The events are aimed at creating networking opportunities for law students from communities underrepresented in the legal profession. In October, Jackson Walker joined 36 other law firms in sponsoring the largest event in the series, Meet the Employers Diversity Fellowship.
HAPL Executive Night
Jackson Walker sponsored the HAPL Executive Night and JW made a great showing among the 350+ attendees. Amanda Van Deusen, President of HAPL, assisted in the presentation of awards for HAPL Company of the Year and Landman of the Year.
D CEO's 2023 Commercial Real Estate Awards
On March 28, 2023, Suzan Kedron represented Jackson Walker at the D CEO's 2023 Commercial Real Estate Awards. JW client Edwin Cabaniss' Longhorn Ballroom project won in the Best Community Impact category.
Law Week Fun Run
Kathy Silver, Gabriela Barake, and Michelle Miller participated in the HBA's 38th Annual Law Week Fun Run, sponsored by Jackson Walker.
"Risky Women" Panel Discussion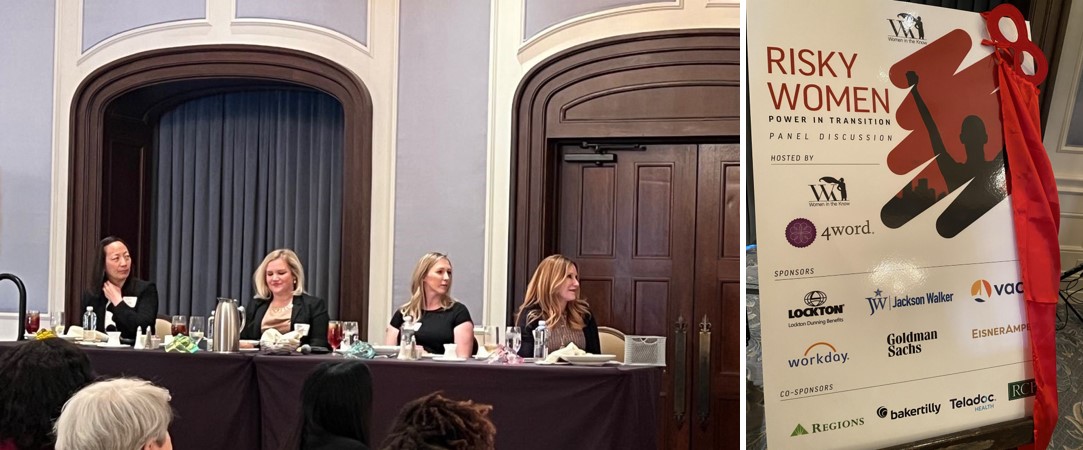 On March 28, 2023, Jackson Walker sponsored Women in the Know's "Risky Women" panel discussion featuring Kate Weiser (Kate Weiser Chocolate), and Nadine Lee (DART), and Ashleigh Lindsay (LHGE, LLC). Kim Zoller (ID360), served as moderator during this inspirational discussion about women who have taken risks in life and business, challenged gender stereotypes, and embraced a world full of possibilities. Mary Emma Karam co-founded Women in the Know in 2016 to provide a forum for women to exchange ideas and solutions for ending intergenerational poverty and supporting women in business.
For those interested in attending future Women in the Know events, sign up for the email invitations here »
CREW Dallas
Jackson Walker proudly served as a sponsor for the CREW Dallas 2023 Career Competition. 40 high school girls from five schools in Dallas Independent School District participated in the Hall Arts Phase 3 Project competition. The competition is an annual outreach program with local high school girls, focused on teaching about careers in commercial real estate and hands-on experience in developing their own commercial real estate project proposals.
DBA DEI Challenge
Several Jackson Walker Dallas attorneys completed the 2022 Dallas Bar Association DEI CLE Challenge.
The DBA DEI challenge encourages its members to aspire to complete three hours of CLE training in the areas of diversity, inclusion, and equity each calendar year.
Women's Business Conference
Jackson Walker proudly served as the presenting sponsor of the Dallas Regional Chamber's 25th annual Women's Business Conference held on March 9, 2023. For the WBC's Silver Anniversary, the conference theme was "SPARK!". For more than two decades, Dallas's top professional women and business leaders have convened at WBC to turn bold ideas into action, taking the SPARK from one day to drive professional and personal growth throughout the entire year, and to create a stronger, more inclusive region.
Our Jackson Walker Women chair, Monica Pace Messick, presented at the conference.
Holiday Giving and Festivities
San Antonio's JW2 committee partnered with the St. Mary's University School of Law clinical program (Center for Legal and Social Justice) to help support three families in need for the holidays, as part of the Adopt-a-Family program of the Family Service Association of San Antonio, Inc.
The Dallas office participated in the Angel Tree drive. 105 children received gifts on behalf of their parent/guardian. Special thanks to Rebecca Villanueva, Julie Schulze, Emiliano Suarez, Pedro Rodriguez, and Von Johnson for helping with loading/delivering the gifts to the church.
The Houston office participated in a gift-wrapping drive. Every year, the Houston legal community unites to provide gifts to some of the city's neediest children, through the Houston Young Lawyers Association Adopt-an-Angel gift drive.
On December 12, 2022, our recruiting crew teamed up with House of Tiny Treasures for a day of reading and fun with their students. At the end of the visit, the Curiosity Cruiser stopped by the school to surprise the students with free books sponsored by Jackson Walker. Thank you to Meghan Pier, Shannon Peters, Katie Ritenour, Alyssa Henke, Brittany Comeaux, Sarahgail Ledgester, and Kaitlyn Trei.
In partnership with Covenant House, Houston attorneys and staff gathered on November 14, 2022, over the lunch hour to stuff cinch bags filled with toiletries and other necessities for homeless youth.
Our JW2 group in Dallas hosted a Neiman Marcus Holiday Party that featured a holiday fashion show presentation to get everyone excited for the season.
On December 15, 2022, Jackson Walker Houston women attorneys gathered for a festive holiday lunch complete with champagne and a fun slideshow featuring pictures of their 2022 life events (both personal and professional).
SABA Networking Happy Hour
Priya Coffey, Mahira Khan, and Judge Manpreet Monica Singh attended the South Asian Bar Association (SABA) Networking Happy Hour. Clinton Kuykendall was also in attendance.
ULI Houston
On February 7, 2023, Jackson Walker client Radom Capital was a winner at ULI Houston's 2023 Development of Distinction Awards for its mixed-use development, The Montrose Collective. JW served as a sponsor for the awards program at Armadillo Palace. Several other JW clients were nominated.
Equal Justice Works
Jackson Walker donated $5,000 to The Scales of Justice. For over 30 years, supporters of Equal Justice Works have made it possible to launch the careers of more than 2,000 lawyers who are helping to create lasting change in our communities, our justice system, and our country.
Masquerade Casino Night
Jackson Walker served as a sponsor at the Commercial Real Estate Millennial Misses (CREMM) Masquerade Casino Night on December 1, 2022. Caroline Capili, Taylor Lamb, and Maggie Lu invited client Macy Hunsaker (Read King) to join them.
Asian Society Texas
Jackson Walker served as a sponsor at the Asian American Women in Law event hosted by Asia Society Texas on February 2, 2023. Catharine Yen, Yenmi Tang, and Caroline Capili attended the event.
Guardian of the Human Spirit Luncheon
Holocaust Museum Houston Board Member Alfie Meyerson was joined by several Jackson Walker attorneys at the Guardian of the Human Spirit Luncheon on Nov. 10, 2022, hosted by JW.
Sleep Out: Executive Edition

Priya Coffey, Kurt Nondorf, Joe Savoie, and Kirk Tucker successfully completed a night of sleeping outside on November 17, 2022, for Covenant House Texas. Hosted by Covenant House, the Sleep Out helps ensure that youth facing homelessness can sleep safely and dream big at Covenant House.
Kurt, who serves as Board Development Chair and Capital Campaign Committee Co-Chair for Covenant House Texas, led the candlelight vigil at this year's Sleep Out that began the evening. Kurt, alongside Marlene, were recognized for their longstanding commitment to Covenant House.
Equality Texas
Jackson Walker's Dallas office hosted the Equality Texas Dallas Steering Committee on Monday, February 27 for a special meeting discussing the 2023 Texas Legislative Session. Joseph Guajardo, Graham McCall, Suzan Kedron, Monica Messick, Chad Cole, and JW alum Brad Nitschke attended the meeting.
Go Red Luncheon
Shari Mao, Lauren Sracic Ciminello, Ann Leafstedt, and Carolyn Mulvey represented Jackson Walker at the American Heart Association's Go Red for Women Luncheon at Witte Museum – Mays Family Center in San Antonio on February 2, 2023.
HBA Entertainment and Sports Law
Jackson Walker sponsored a HBA Entertainment and Sports Law section CLE event, "The Playbook of Sponsorships" at the Toyota Center.
The Houston Rockets GC and Assistant GC lead a discussion about legal considerations when negotiating sponsorship agreements in the sports world.
Attendees were treated to the Rockets game against the Miami Heat following the CLE.
Thunder Ball
Austin Thomas dressed as thunder clouds at the Fresh Arts "Thunder Ball", sponsored by Jackson Walker. Fresh Arts Board Member Jackie Staple was also in attendance representing JW.
Greater:SATX Quarterly Meeting
Lauren Ciminello and Leah Smith Sanchez attended the Greater:SATX quarterly investor meeting at the new Roadrunner Athletics Center of Excellence at UTSA.
During the meeting, business players in the community discussed business growth in San Antonio, and guests received a surprise pep talk from Coach Traylor!
Fashion in the Fields
Priya Coffey, Jamila Brinson, and Marisela Gonzalez entertained a group of JW clients and friends at Fashion in the Fields on April 16. The ladies enjoyed beautiful weather, an outdoor brunch, and a Neiman Marcus fashion show! Benefitting the Recipe for Success Foundation, this event allowed our Firm to give back to a great cause and create wonderful memories!
These materials are made available by Jackson Walker for informational purposes only, do not constitute legal advice, and are not a substitute for legal advice from qualified counsel. The laws of other states and nations may be entirely different from what is described. Your use of these materials does not create an attorney-client relationship between you and Jackson Walker. The facts and results of each case will vary, and no particular result can be guaranteed.
© 2023 Jackson Walker